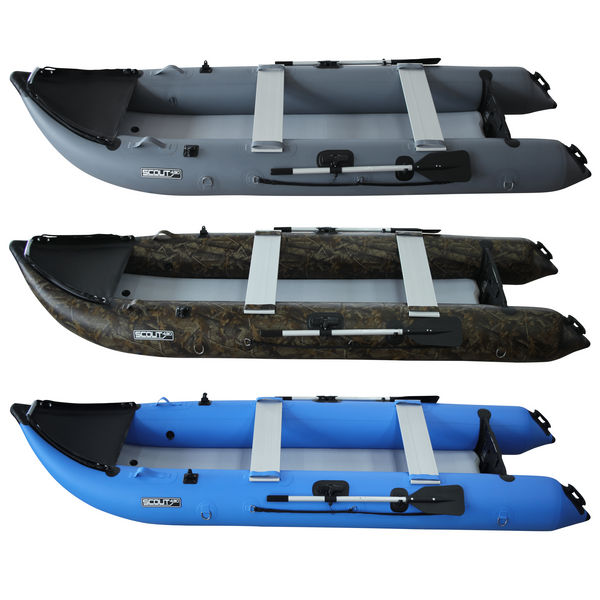 Great Lakes Watercraft is proud to introduce catamaran micro skiffs from Scout Inflatables. The Scout 430 is similar to it's popular little sister, the Scout 365. By adding an extra 2 feet of waterline, this boat has more carrying capacity, more space, and allows for a bigger outboard motor. 
Scout managed to keep the weight of this skiff under 60 lbs, so it still packs into a bag and retains the same convenience as the smaller Scout 365. 
What does Great Lakes Watercraft think?
---
Scout Inflatables is new to the US Skiff market. Engineered in New Zealand, Scout Inflatables has earned the reputation of producing "Quality that you can stand on!" With their distribution facility in Southern California, Scout is well equipped and positioned to service the US market.
These skiffs are sized between a large kayak and our inflatable Takacat dinghies. The high chin bow with a flat bottom offers stability. It only draws about 4 inches of draft, which means shallow waters, and shallow launching are an option. 
You'll notice that on the bottom of the Scout 430 there are 4 small fins. These are for easy tracking even in rough waters or high winds.
For the RV's and campers, this small inflatable packs away tight and is lightweight giving you the opportunity to get out on the water while traveling. In less than 10 minutes you can assemble the boat, and best of all... no boat ramps required!
Accessory Pro Tips
---
The Scout Inflatables are a fully customizable Mirco Skiff with a range of accessories to help you construct a skiff that fits your specific use case. 
Will your boat be stored outside?     Custom fitted boat covers are available for the Scout skiffs allowing you to protect your tender from UV and rain for longer term storage on your foredeck or swim platform.

Don't want to row your boat?     Add a small gas outboard or an electric drive system from the Torqeedo Travel Series. The transom at the back of the skiff is a perfect fit for all transom mounted motors. Get a tiller extension so that you can pilot your skiff while standing up and fishing!

Looking for comfort?     The custom bow cushion is a perfect passenger seat, but you can also add a swivel folding seat with rails or adjustable seat for added back support to be placed on the included aluminum bench. Also check out the custom-fitted Bimini sun shades!
Are a backcountry camper?     Transform your Scout 365 or 460 into an overnight tent or birdwatching/hunting blind! The custom-fit tent/blind can be used on land or water. It can keep you comfortable and dry overnight.
Are you a fisherman?     Boy have we got a setup for you. Check out our transom mounted fishing rod holders. Or you can go pro with the front bench console that can be used to mount your rod holders, fish finder, transducer or motor, and cup holders (can't forget those). We also have have custom-fit coolers and bait tanks!
Fly fishing and ambition skiff pilots!     Take a look at our fly-casting stabilizer bar. Enjoy standing up while navigating on your skiff or standing while casting out a fly line. Our most popular accessory!
Product Specifications
---
Length: 12' (3.65 m)
Exterior Width: 3 ½' (1.1 m)
Interior Width: 17" (430mm)
Tube Diameter: 12 5/8" (320mm)
Air Chambers: 2 + Air Floor
Maximum Load: 500 lbs. (226 kg, 1 - 3 persons)
Weight: (boat in the bag- 68 lbs or 31 kg)
Maximum HP: 3.5 (4 stroke)
Recommended HP: 3.5 hp
Shaft length: Short Shaft
BOAT IN BAG Dimensions: 36" x 26" x 11"
Equipment Included with the Scout 365
---
High Pressure Drop Stitch Air Floor
2 Aluminum Bench Seats
Padded Bench Seat Cover w/ Storage Bag
External Safety Ropes
UV Protected carry handles
Stainless D Rings for easy tie down
2 Aluminum Oars
Canvas Carry Bag
High Flow Foot pump
PVC Repair Kit
2 year Warranty
Underside rubber strakes
External safety lines
4 Securing D-Rings
Material & Construction

---
Scout 365 catamaran skiffs are made of 1,100 denier (0.9mm) PVC fabric with polyester support which offers excellent abrasion and tear resistance. Each seam is hand glued with four layers of bonded fabric for maximum strength and durability in assembly and tear down.
Glued seams offer better durability to welded seams when the PVC product is designed to be inflated and deflated on a regular basis. Additionally, they will not become brittle when exposed to UV radiation. Our choice of fabric and seam design means Scout skiffs are built tough and designed to last.
DROP STITCH AIR FLOOR
The Air Deck Floor is offers rigidity to the boat design and affords you great stability. Our lightweight, removable, high-pressure air floor system is constructed drop-stitch PVC technology. This is the same technology being used in many inflatable paddle boards. This system is comprised of thousands of interwoven stitches holding both sections of fabric in parallel.
Once inflated, this system provides extreme rigidity to the boat and ensures set up and pack down is easy and quick. The air floor's construction also absorbs vibrations. It is rigid, yet comfortable under your feet. When deflated the air mat is rolled up for ultimate portability. 
HULL PROTECTION
All Scout Inflatable skiffs include an 8" wide rubber runner strip to protect the length of the boat. This protects the boat should it be dragged across abrasive surfaces such as the basalt beaches on Lake Superior.
INTERNAL BUNG SYSTEM
All Scout boats have an internal bung system which can be opened and closed easily. Convenient if your boat takes on water!
TRANSOM ASSEMBLY
Scout 365 transoms are made with marine plywood and coated with tough 0.9mm, 1100 Denier PVC fabric. The transoms can also be used to attach side mounted fishing rod holders. We recommend using stainless screws and sealant when screwing or attaching anything to the transom.
VALVES
All Scout skiffs utilize Halkey-Roberts valves designed for easy inflation and deflation. All valves have a double seal for leak protection and are widely used by inflatable boat manufacturers globally.
Maintenance Instructions
---
Scout Inflatables require very little maintenance. However we recommend the following to maximize the lifetime of your boat:
Always rinse your boat after use in salt water.
Storing your boat for several days ensure it is covered and out of direct sunlight
Store dry in a dry, well ventilated space.
We strongly suggest storing in an area that is free from rodents.
SCOUT boats can be stored inflated or deflated. If inflated we recommend using a boat cover. If deflated we recommend using the carry bag provided.
Our PVC material is extremely durable however avoid sharp objects or highly abrasive materials.
We do not recommend using solvent or chemical based cleaning agents on your SCOUT365. Your local marine store will be able to recommend PVC inflatable boat