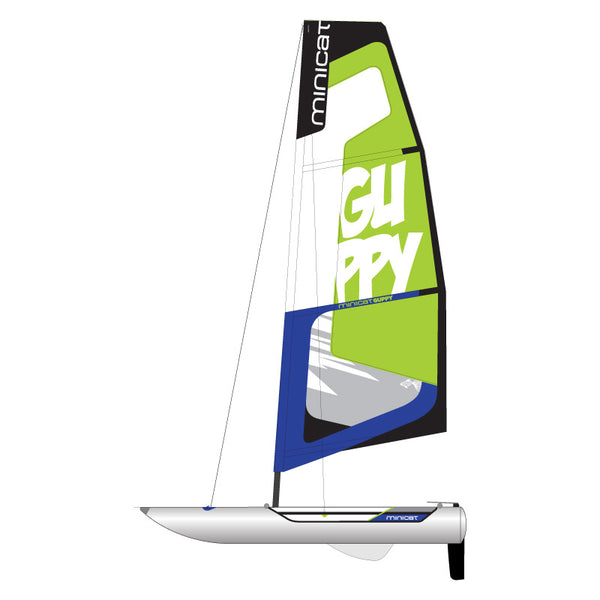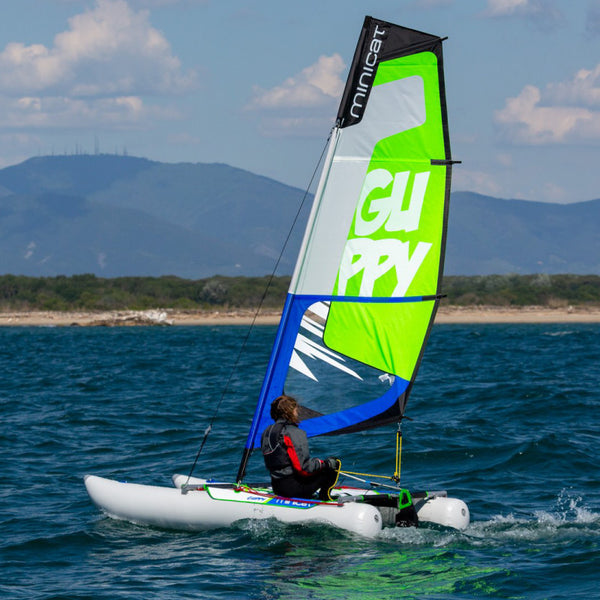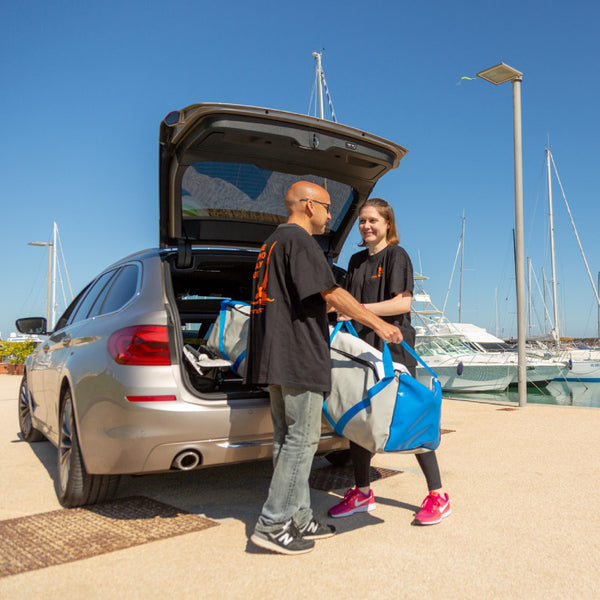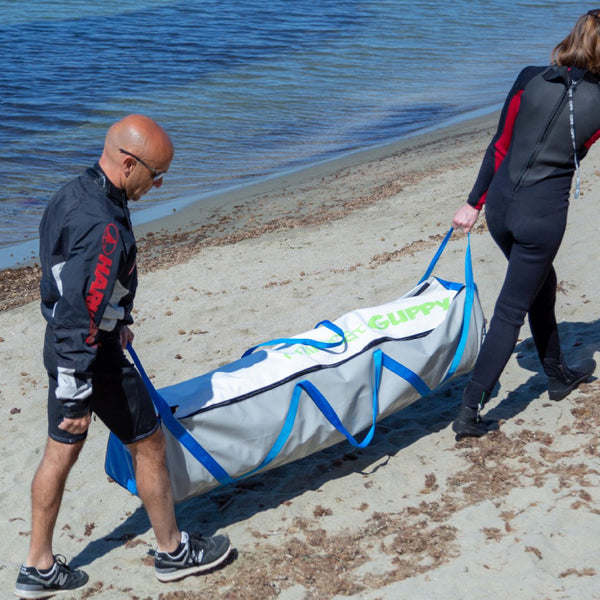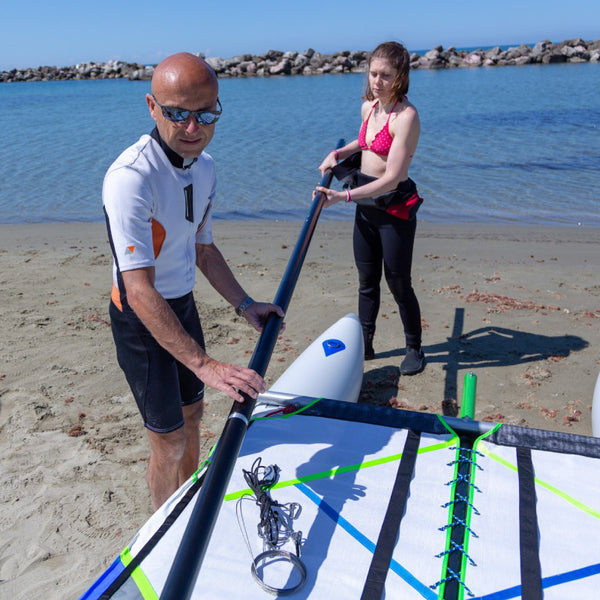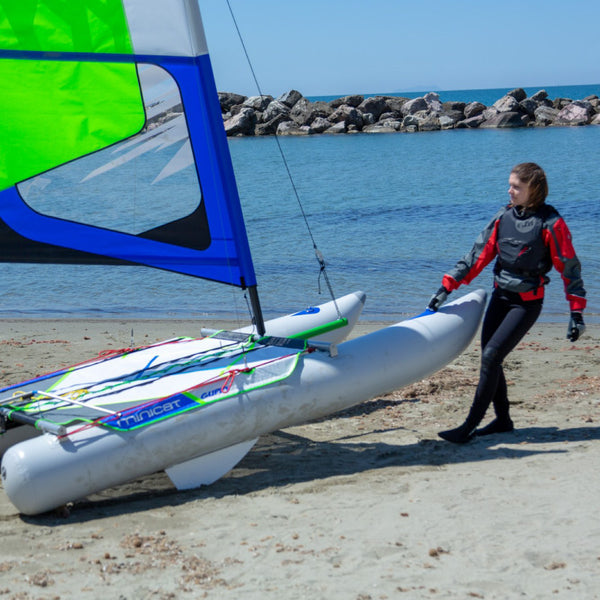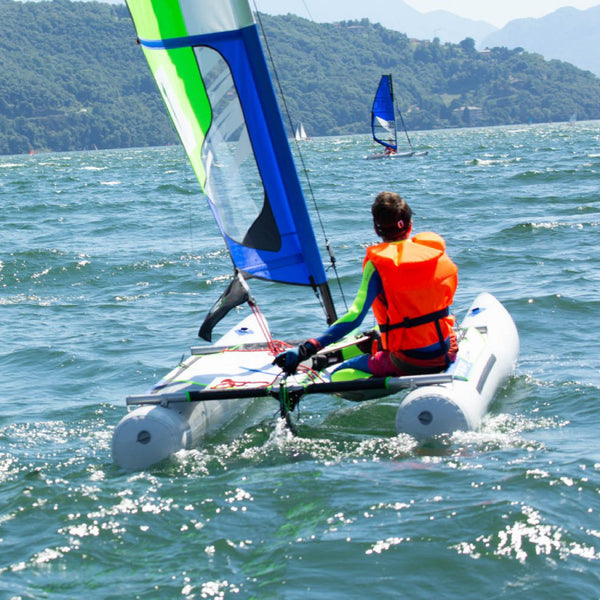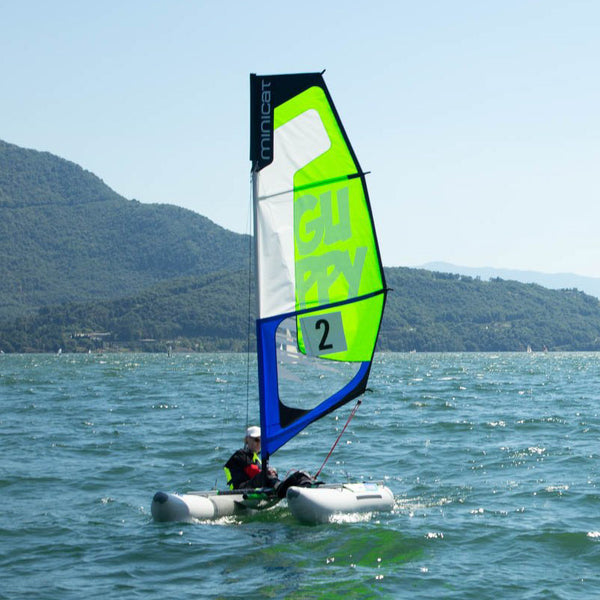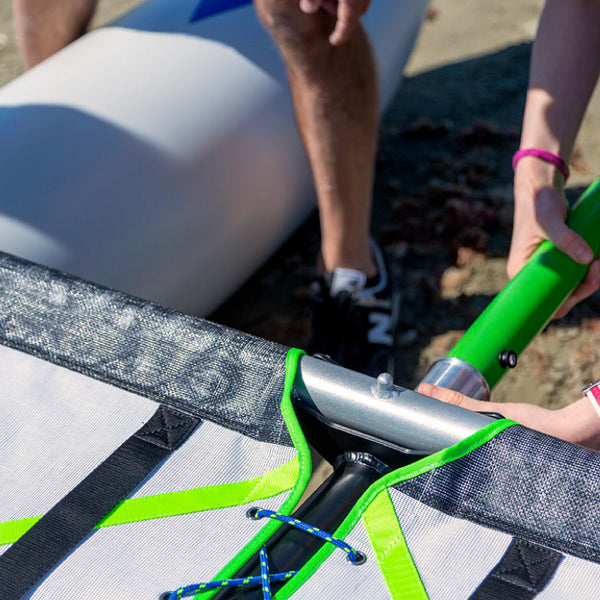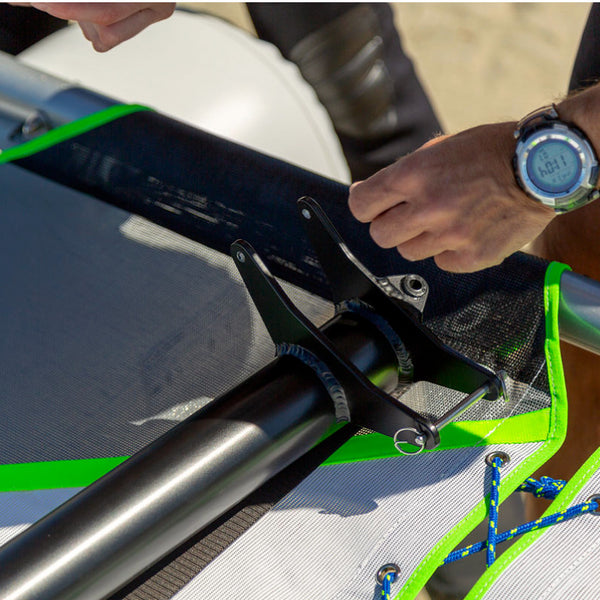 The MiniCat GUPPY is all about simplicity and speed of assembly.  This model only has a singular main sail which is especially appealing to first-time sailors who want to learn while having lots of fun on the water.
With floats pre-fixed to the frame, the set-up takes just 10 to 15 minutes from start to finish. The GUPPY is also exceptionally light (51 lbs.)  and with grab-handles on the trampoline, it's simple to move!
Accessory Pro Tips

---
The Guppy does not have as many opportunities to accessorize as the MiniCat 420 or the 460.   However, depending on your intended use for the boat, there are some accessories that you should consider before you finalize your purchase. 
Are you looking for a little extra functionality?     The Additional Front Trampoline is the perfect spot to stow your beach towels, picnic basket and beer.  A set of Neoprene Shrouds make it little more comfortable when you are laying out on the trampoline and catching some sun, and the Ladder makes it easy to get in and out of the boat when it's time to take a dip.  The Wind Flag will tell you the wind direction wind which makes it easier to catch the wind and let you know when the wind changes. 
Do you intend to leave the boat assembled on land?     You might want to consider Float Supports to protect the keel fins while the boat is out of the water.  
Would you like to save a little time and energy?  If you don't mind the workout, then carry the boat to the beach and inflate it by the water with the included hand pump. However, if you are intersted in a short cut, we sell a High Volume Inflator that can save you some time by quickly inflating the boat to around 1 psi. In this scenario, you will still need to use the hand pump to complete the fill and inflate the boat to pressure. A Pressure Gauge will enable you to make sure that the boat is inflated to the proper pressure for peak performance. You could also set the pressure and forget about it with a Automatic Inflator. 
Will you travel with your MiniCat?      A Wheeled bag is a no brainer and a must for train staions and airports.  Purchase this as a bag replacement upgrade when you buy your boat and save over 60%. 
Are you sailing far from shore or in spotty wind conditions?     We highly recommend a Telescopic Paddle for those pesky times when mother nature decides not to cooperate.  Depending on the extent of your adventure, it may be essential that you have an outboard motor as an alternate propulsion method.  If this is your plan, you will need an Engine Support to go with a small long shaft outboard motor.   If you do not already have an outboard,  we suggest a Torqeedo 1103 C Long as an elegant companion to your MiniCat. 
| | |
| --- | --- |
| Boat Specifications | |
| Overall Length | 9' 10"  (299.7 cm) |
| Overall Width | |
| Mast Height | |
| Total Weight | |
| Crew Size | |
| Carrying Weight | |
| Sail Area | |
| | |
| --- | --- |
| Packing and Assembly Specifications | |
| Bags | 1 |
| Bag Sizes | 65" x 12" x 12" (165 x 30.5 x 30.5 cm) |
| Setup / Rigging Time | |
| Trailer Needed | |
| | |
| --- | --- |
| What's Included | Quantity |
| 3-piece aluminium powder-coated mast with circular profile | |
| Main sail 3.9 m2 from Dacron (no boom) | |
| Aluminium 'spine' frame permanently attached to trampoline | |
| Aluminium powder-coated frame finished in 3 colours | |
| Trampoline 63" x 57" (1600 x 1450 mm) with totally new design fixed with special grab-handles | 1 |
|  Shorter but deeper keel fins, same fixing as with 420 models | 2 |
|  No stainless steel ropes underneath the trampoline | 0 |
|  Single design, single colour-scheme | 1 |
|  Floats fitted with hooks to fasten the additional front trampoline or the rope when anchoring the boat | 1 |
MinicCat Guppy Accessories