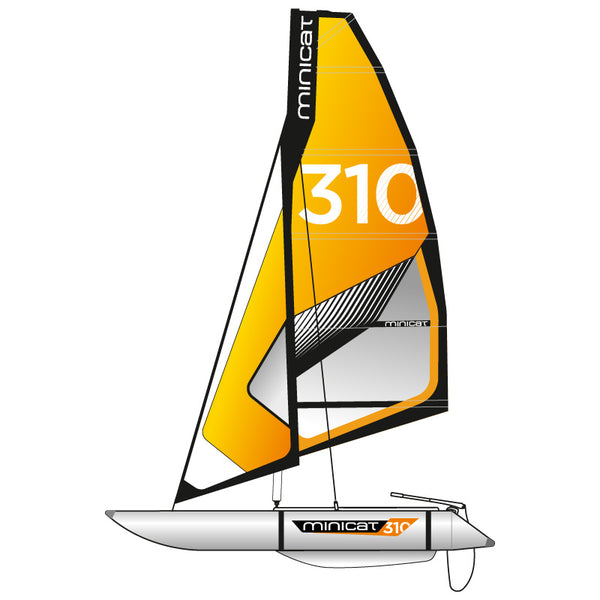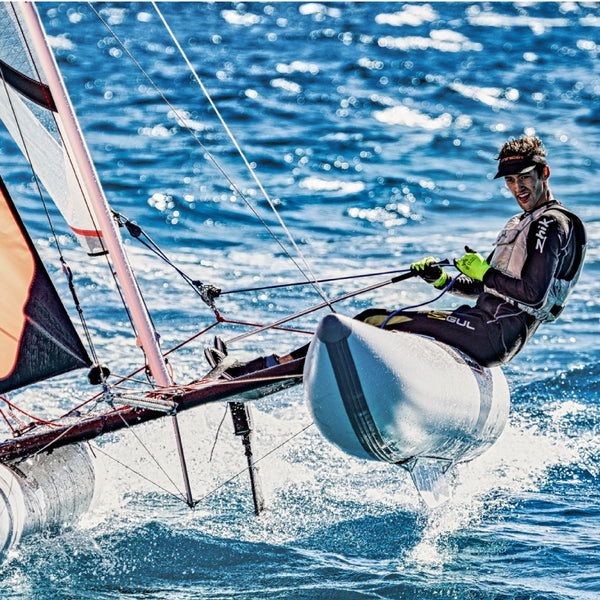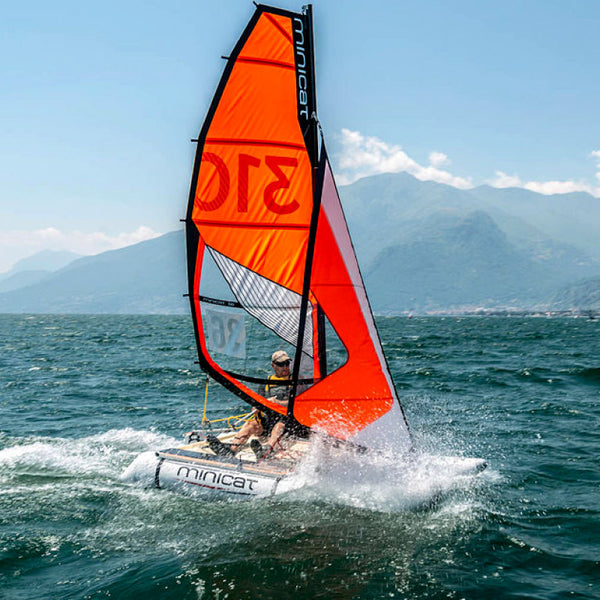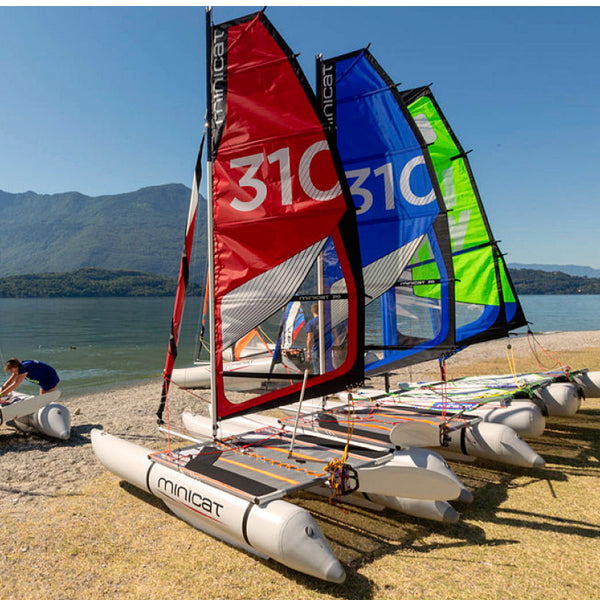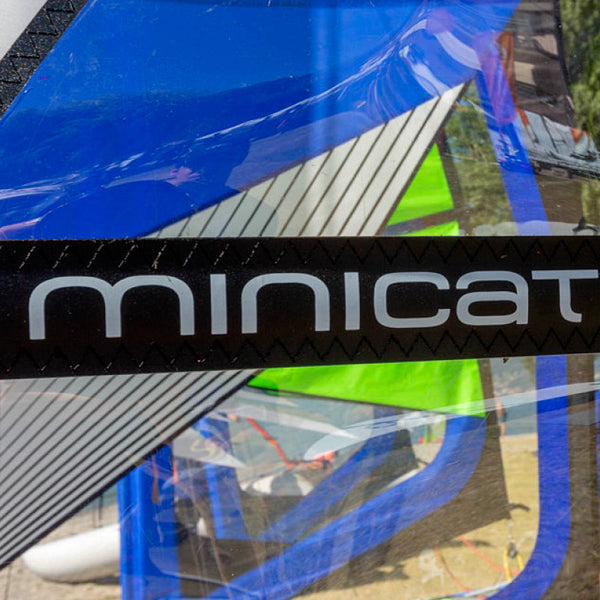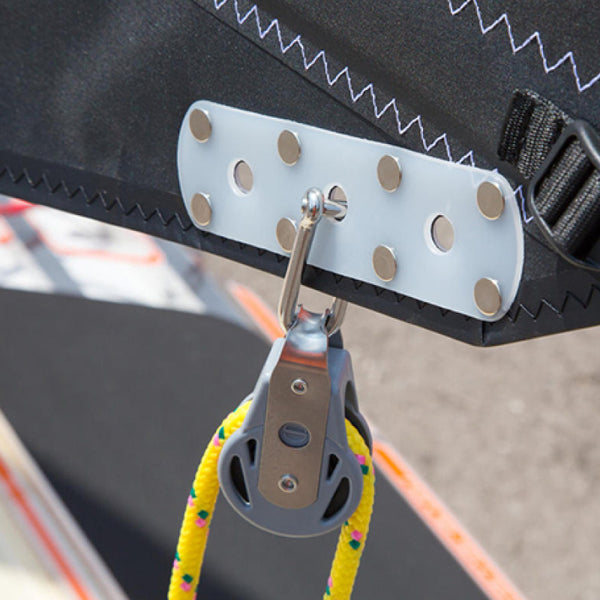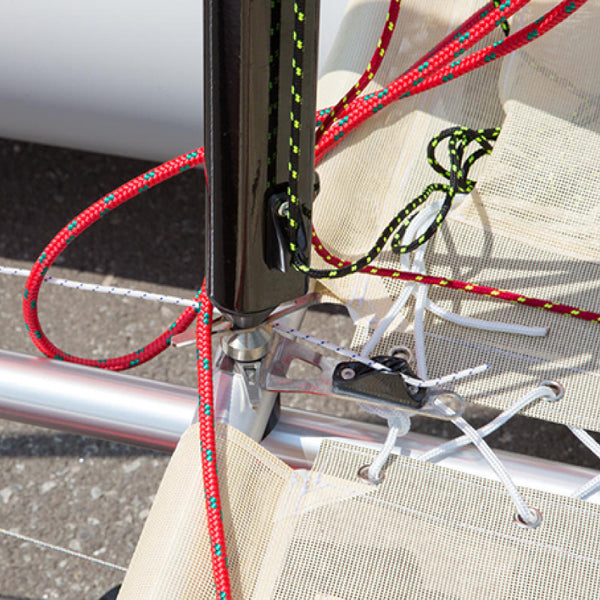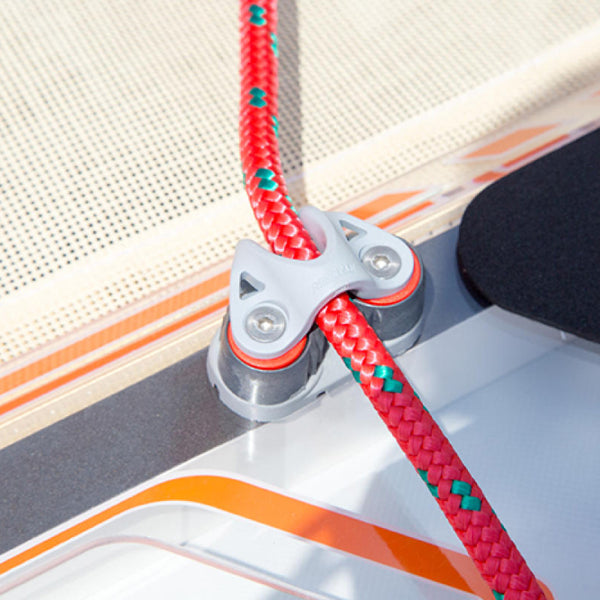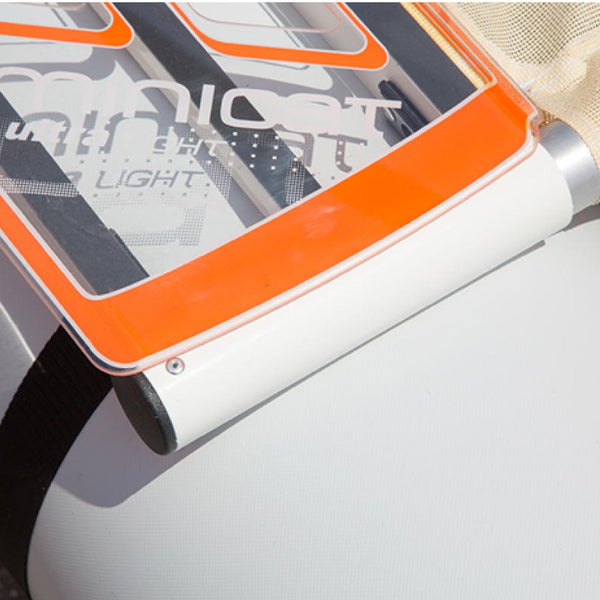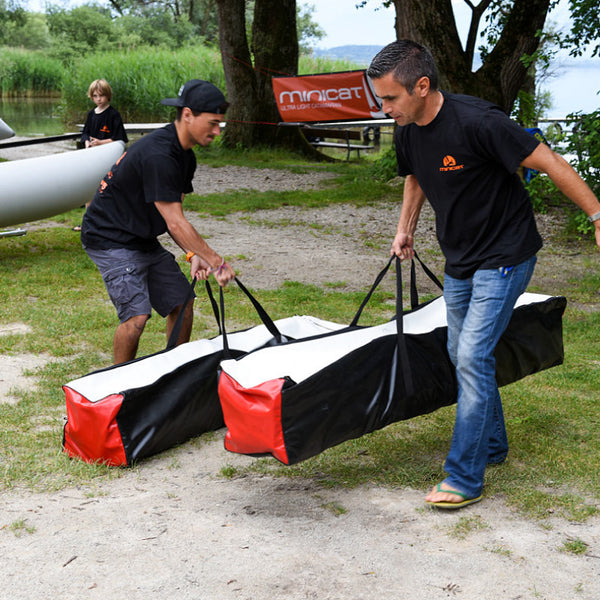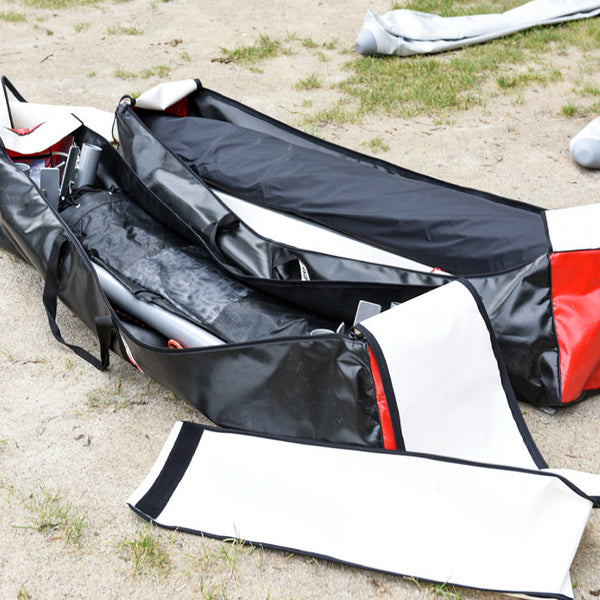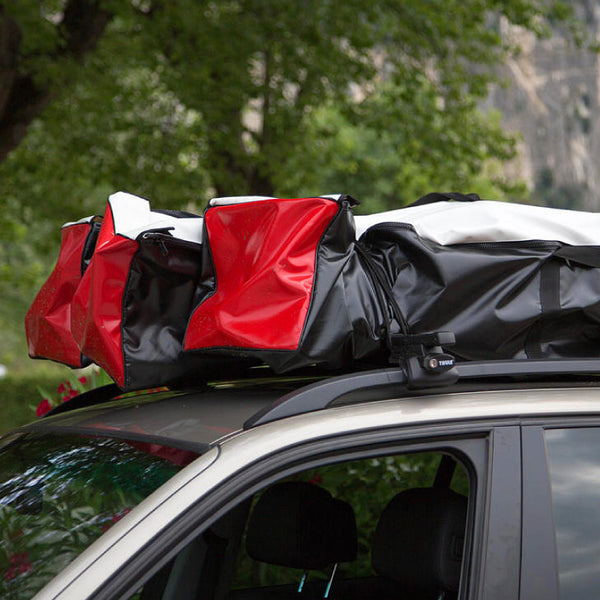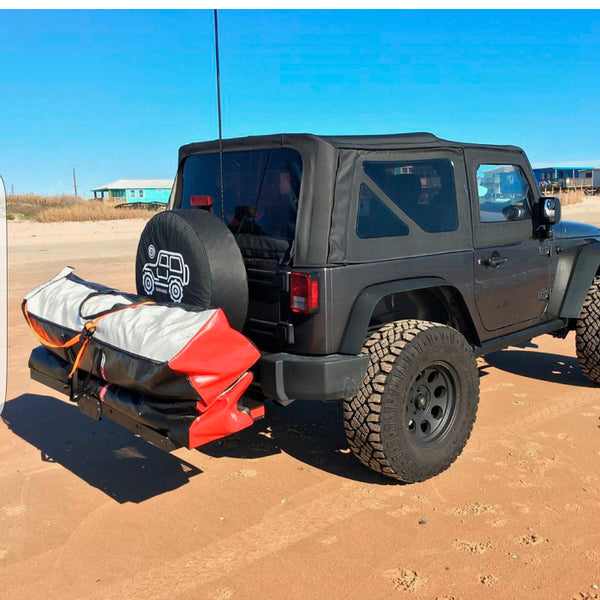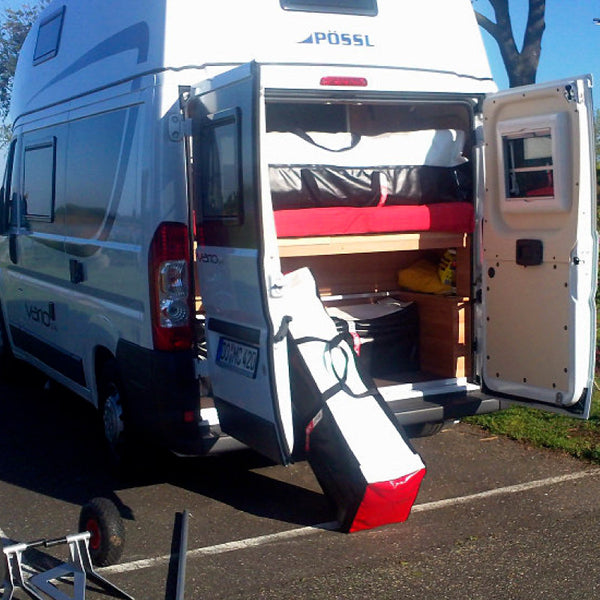 The MiniCat 310 Sport is designed for individual sailors who like speed and performance and for families seeking a compact and safe sailboat. The recently updated 310 boasts an all-new design, a new look, and a new style with the same fun character.
The MiniCat 310 Sport can be assembled and on the water in just 15-20 minutes, perfect for leisure sailors who want to get out on the water quickly.
At only 71lbs, portability and performance are both optimized.
Accessory Pro Tips
---
The 310 Sport has more opportunities to accessorize then the Guppy but less then the MiniCat 420 and 460. To enhance your sailing experience ask yourself the following questions to determine if and what accessories are right for you.
Are you looking for a little extra functionality?     The Additional Front Trampoline is the perfect spot to stow your beach towels, picnic basket and beer.  A set of Neoprene Shrouds make it little more comfortable when you are laying out on the trampoline and catching some sun, and the Ladder makes it easy to get in and out of the boat when it's time to take a dip.  The Wind Flag will tell you the wind direction wind which makes it easier to catch the wind and let you know when the wind changes. 
Will your boat be stored outside?     Keep your sailboat looking new and beautiful!  A Protective Boat Cover, and Float Supports protect your investment from the sun, dings, scratches and kids that think it is a bounce house. 
Are you learning or teaching?     You will probably flip the boat if you get caught by a gust of wind and don't know what to do. (Hint; Just release the main sail!) If you do flip the boat, it is no big deal.   It is easy to flip the boat back over, especially if you have a Mast Float. 
Would you like to save a little time and energy?     If you don't mind the workout, then carry the boat to the beach and inflate it by the water with the included hand pump. However, if you are intersted in a short cut, we sell a High Volume Inflator that can save you some time by quickly inflating the boat to around 1 psi. In this scenario, you will still need to use the hand pump to complete the fill and inflate the boat to pressure. A Pressure Gauge will enable you to make sure that the boat is inflated to the proper pressure for peak performance. You could also set the pressure and forget about it with a Automatic Inflator. 
Will you travel with your MiniCat?      A Wheeled bag is a no brainer and a must for train staions and airports.  Purchase this as a bag replacement upgrade when you buy your boat and save over 60%. 
Are you sailing far from shore or in spotty wind conditions?     We highly recommend a Telescopic Paddle for those pesky times when mother nature decides not to cooperate.  Depending on the extent of your adventure, it may be essential that you have an outboard motor as an alternate propulsion method.  If this is your plan, you will need an Engine Support to go with a small long shaft outboard motor.   If you do not already have an outboard,  we suggest a Torqeedo 1103 C Long as an elegant companion to your MiniCat. 
| | |
| --- | --- |
| Boat Specifications | |
| Overall Length | 10' 4"  (315 cm) |
| Overall Width | |
| Mast Height | |
| Total Weight | |
| Crew Size | |
| Carrying Capacity | |
| Sail Area | |
| | |
| --- | --- |
| Packing and Assembly Specifications | |
| Bags | 1 |
| Bag Sizes | 53" x 12" x 16" (134.6 x 30.5 x 40.6 cm) |
| Setup / Rigging Time | |
| Trailer Needed | |
| | |
| --- | --- |
| What's Included - Super | Quantity |
| Aluminium Mast – black powder coated | |
| Jib Sail 8.07 ft² (3.75 m²) | |
| Rudder – Fibreglass/Epoxy | |
| Main Sail 15.07 ft² (1.40 m²) | |
| Grey Floats | 2 |
| Off-white Trampoline | 1 |
| Chosen Color Sail and Jib with see-through window | 1 |
| Floats fitted with hooks to fasten the additional front trampoline or the rope when anchoring the boat | 1 |
| | |
| --- | --- |
| What's Included - Sport | Quantity |
| Aluminium Mast – black powder coated | |
| Jib Sail 8.07 ft² (3.75 m²) | |
| Jib Furler (Rolfok) | |
| Rudder – Fibreglass/Epoxy | |
| Main Sail 15.07 ft² (1.40 m²) | |
| Grey Floats | 2 |
| Off-white Trampoline | 1 |
| Chosen Color Sail and Jib with see-through window | 1 |
| Floats fitted with hooks to fasten the additional front trampoline or the rope when anchoring the boat | 1 |
"The principal aim was to speed up the assembly time and enhance the sailing characteristics even more. With the prototypes having spent a lot of time on the water this summer [2021] and the pre-production boats sailing hard... we are confident that we achieved what we wanted, and you will all be delighted."
-Sam Simons, MiniCat Worldwide