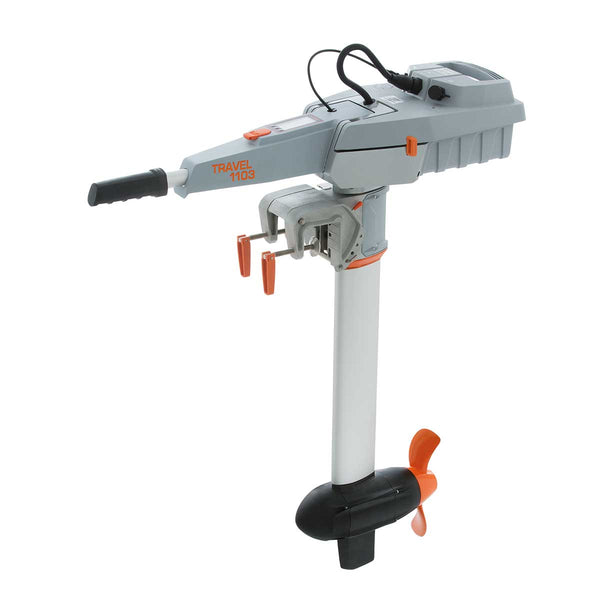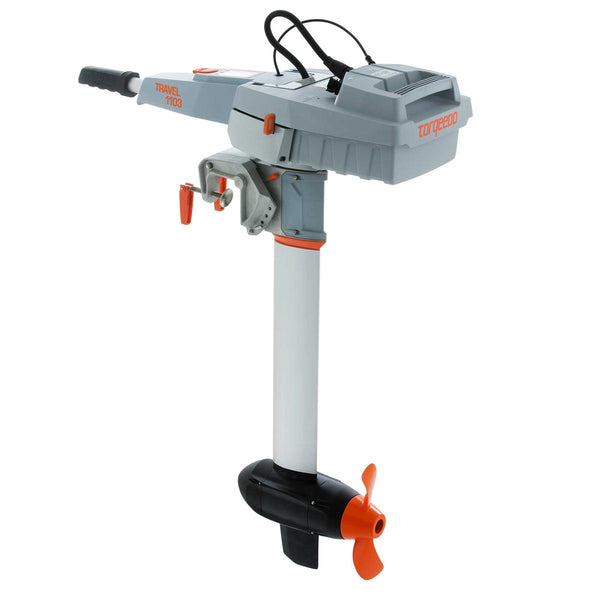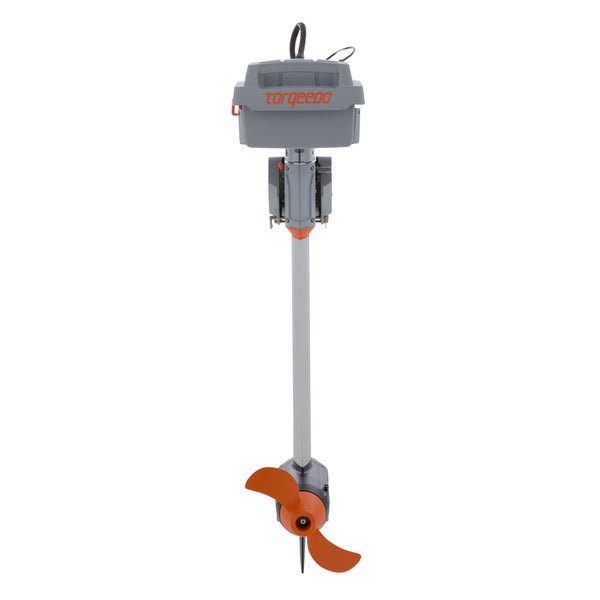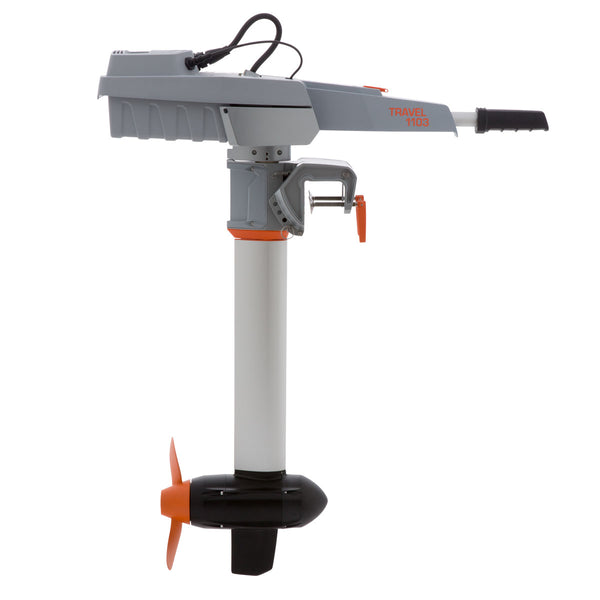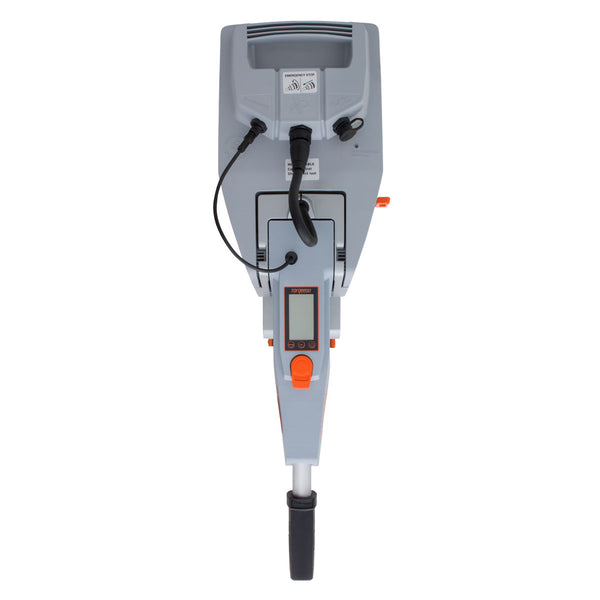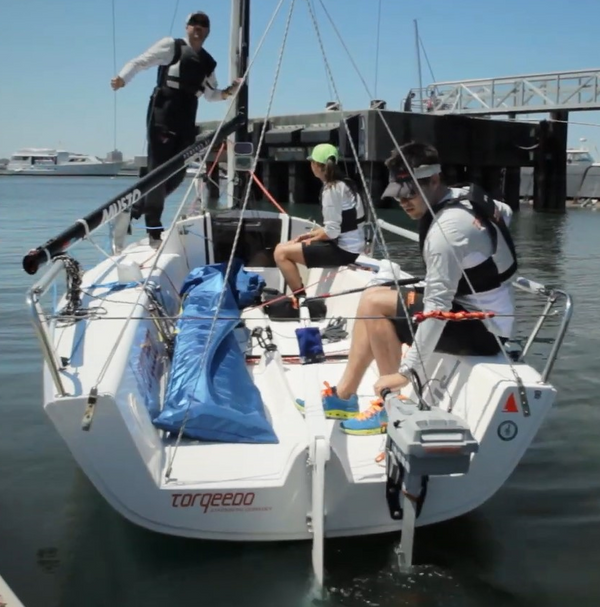 For tenders, dinghies and daysailers up to 1.5 tons; (Perfect match for MiniCat and Takacat)
The top-of-the-line 1103 C model is a new addition to the globally successful Travel series. Featuring a brand-new, direct-drive motor design, it comes with the high-capacity 915 Wh battery – a range-extending 73% increase in capacity compared to the base model. The 1103 C also delivers 10% more power from 1,000 to 1,100 W, a stronger aluminium pylon for increased protection from impact damage and an upgraded transom mount.
Motor noise is an ultra-quiet 33 dB. Just like the proven Travel 1003 model, the new 1103 C is suitable for boats up to 1,500 kg.
Product description
---
high-efficiency outboard with integrated 915 Wh high-performance lithium battery

including onboard computer with GPS-based range calculation and charger

ultra-quiet (33db), clean and compact

silent direct-drive

instantaneous throttle response

10% more power

improved durability

3 HP equivalent

emergency magnetic kill switch, short shaft

completely waterproof (IP67)

total weight 17.3 kg (S) / 17.7 kg (L)

shaft length: short 62.5 cm / long 75 cm


Travel 1103 - Benefits:
with its integrated lithium battery and its outstanding efficiency, the Travel is the alternative to a small petrol outboard


can do everything that a 1.5 / 3 HP petrol outboard can, plus it's environmentally friendlier, quieter, lighter and more convenient

completely waterproof (IP67)

Instantaneous throttle response

on-board computer with GPS-based calculation of remaining range

solar rechargeable – including during the voyage

can be easily dismantled for transport and space-saving storage; the outboard on its own weighs only 11.3 kg (S) / 11.7 kg (L)

a clean affair: no matter how or where you store your Travel – there's no risk of leakage or petrol smells


Travel 1103 C with integrated 915 Wh battery (29.6 V / 31 Ah)
 

|   | Speed in knots (km/h)* | Range in sm (km)* | Running time in hours: |
| --- | --- | --- | --- |
| Slow | 2.0 (3.7) | 40.0 (74.0) | 20:00 |
| Half throttle | 3.0 (5.5) | 18.0 (33.0) | 06:00 |
| Full throttle | 5.5 (10.0) | 4.6 (8.3) | 00:50 |
* Depends on type of boat, load, propeller and conditions. Speed and range indications do not represent a legal guarantee.
Information on range and speed
For a displacement boat making way through the water, the required propulsive power increases in proportion to the cube of the speed. This means that if you want to double your speed, you need eight times as much power.
And vice-versa, a small reduction in speed is enough to increase the achievable range substantially.
The Torqeedo Travel's on-board computer calculates the remaining range constantly, by linking the motor's consumption data with the charging level of the batteries, and the speed over the ground from the GPS. This allows you to read the remaining range in real time from the motor display or the smartphone app TorqTrac.
Technical Data Travel
 

Travel 1103 C
Input power in watts
1100
Propulsive power in watts
520
Comparable petrol outboards (propulsive power)
3 HP
Comparable petrol outboards (thrust)
4 HP
Maximum overall efficiency in %
49
Static thrust in lbs*
70
Integrated battery
915 Wh Li-Ion
Nominal voltage
29.6
Final charging voltage
33.6
Total weight in kg
17.3(S) / 17.7 (L)
Motor weight without battery in kg
11.3(S) / 11.7(L)
Weight of integrated battery
6.0
Shaft length in cm
62.5(S) / 75(L)
Standard propeller
v = speed in km/h at p = power in watts
v10/p1100
Alternative propeller options
v10/p1100 weedless
Maximum propeller speed in rpm
1,450
Control
Tiller
Steering
+/-60° lockable
Tilting device
Manual, with impact protection
Trim device
Manual, 4-step
Integrated on-board computer
Yes
Stepless forward/reverse drive
Yes


Ordering information
Item number: 1149-00  | EAN: 4260113694473

Equipment included: Travel 1103 C with battery, charger & emergency magnetic kill switch

Warranty: 5 years