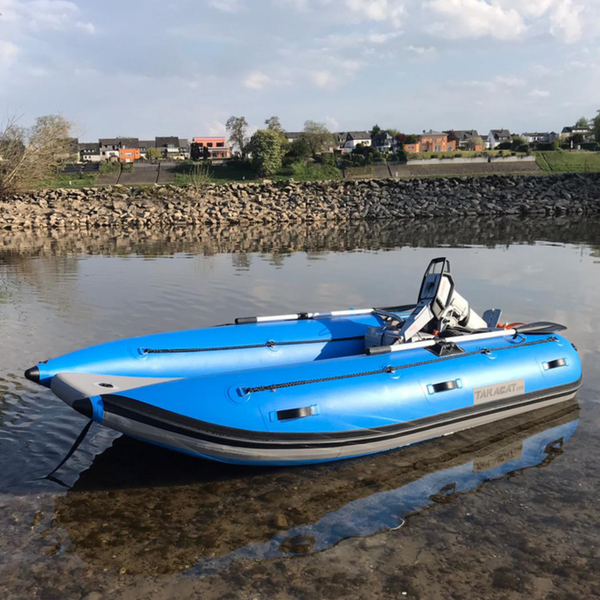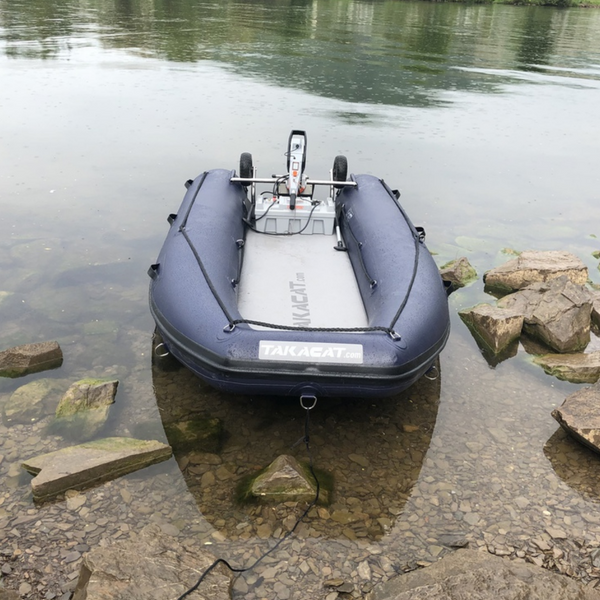 The 2023 Cruise 3.0T Bundle is a tiller-controller, 6 HP equivalent fully electric drive system. It is well suited for sailboats up to 30 feet, displacement hulls up to 3 tons, or for dinghies. It can power dinghies at speeds of up to 15 mph for over 2 hours of constant run time. Charge time from 0 to 100% is 11 hours with the Standard Charger, and less than 2 hours with the Fast Charger.
All Cruise systems have a built-in GPS with onboard computer and display with speed and input power, state of charge and remaining range. 
Bundle Discount Information
---
The Cruise 3.0T Bundles offered exclusively by Great Lakes Watercraft saves customers between $285-$385 depending on which charging hardware you choose!
Ordering parts directly from the manufacturer, the price of the Torqeedo Cruise 3.0T, the Power 24-3500 battery, and the charging hardware costs $8,055-$10,055 with shipping.
Equipment Included with the Cruise 3.0T Bundle

---
The Cruise 3.0T Bundle is shipped with all necessary components to be operated upon arrival.
Cruise 3.0T High-efficiency outboard with 3,000 W input power, equivalent to a 6 HP petrol outboard

25

 

mm

2

 

battery cable with main switch and spare fuse
Standard 3-blade prop: Model v13/p4000
Short OR Long shaft motor
Easy to configure anode set both for fresh and saltwater

Tiller control with integrated display screen

Magnetic kill switch for operator safety

Connection cable for lead-acid batteries

Power 24-3500 High-performance Li-Ion battery for safe open-water operation and accurate range/runtime functionality
Standard Charger can charge from 0 to 100% in a maximum of 14 hours
OR Fast Charger 1700 W Power 24-3500 to reduce charge time to under 2 hours
Warranty: 2 years for all non-commercial use
Product Information
---
Total onboard weight of 100 lbs


Cruise 3.0T short shaft - 44 lbs

Power 24-3500 battery - 56 lbs

Shaft length

Short shaft - 24.6 inches

Long shaft length - 29.7 inches

Motor and battery are waterproof to IP67 with the charger is splash-resistant to IP65

Rugged skeg with integrated fin – for extra protection when running aground

Highest-grade seawater-proof aluminum, hard-anodized for long service life, even in the harshest conditions

Integrated battery management system providing protection against overcharging, short circuits, deep discharge, polarity reversal, overheating and submersion.

Motor is compatible with third-party batteries (24-volt) but be careful to match to the motor power requirements
What does Great Lakes Watercraft think?
---
Originally premiered in 2006, Torqeedo has drastically improved their high-performance electric outboards. The 2023 Torqeedo Cruise 3.0T is a 24V, 6HP electric equivalent to any standard gas-powered outboards. It can power boats up to 3 tons. But also pairs nicely with larger size Takacats and dinghies.
With a single Power 24-3500 lithium battery, this e-drive gives you up to 2 hours of full-throttle runtime on the lightweight Takacat boats and runs for days at slower speeds. You can connect up to 16 Power 24-3500 batteries in series for more energy storage. Depending on size and payload, this 6 HP motor will get your Takacat on plane. A Takacat T340LX with a payload of ~450 lbs can expect top speeds of 13-15 mph. 
Yes, we know. The Torqeedo Cruise Series bundles are much more expensive than a gas-powered outboard of the same horsepower. That being said, being on plane with a nearly silent setup is something special and very unique. Of course the additional added benefit is boating in an environmentally safe manner. It's our objective to introduce innovation that can help protect our Great Lakes and waterways hear in Michigan and across all of North America, and the Torqeedo Cruise Series motors do just that!
Technical Specifications
---
Torqeedo Cruise 3.0T Installation Drawing
Torqeedo Power 24-3500 Standard Charger Manual
Torqeedo Power 24-3500 Fast Charger Manual
Cruise 3.0T Motor
Input power in watts
3000
Propulsive power in watts
1530
Comparable petrol outboards (propulsive power)
6 HP
Comparable petrol outboards (thrust)
8 HP
Maximum overall efficiency in %
51
Static thrust in lbs*
142
Nominal voltage
24
Total weight in kg
19.7 (S) / 20.2 (L)
Shaft length in cm
62.5 (S) / 75.5 (L)
Standard propeller
v = speed in km/h at p = power in watts
Propeller B 12 x 10,5 WDR
Maximum propeller speed in rpm
1100
Control
Tiller
Steering
360° lockable
Tilting device
Manual with grounding protection
Tilt angle
61,3°
Trim device
Manual, 4-step
Integrated on-board computer
Yes
Stepless forward/reverse drive
Yes
Power 24-3500 Battery

Capacity
3,679 Wh
 
Nominal voltage
25.2 V
 
Final discharging voltage
21.0 V
 
Nominal charge
139,2 Ah
 
Maximum discharge rate
180 A
Safety function against short-circuit, must not be used as starter battery
Maximum discharge rate at nominal voltage
4,660 W
 
Weight
25.4 kg
 
Dimensions (L x H x B)
577.5 mm x 218.5 mm x 253.5 mm
 
Volume
32 l
 
Battery chemistry
Li-NCA
 
 
Benchmark information
Energy density (weight)
145 Wh/kg
 
Energy density (volume)
115 Wh/l
 
Power density (weight)
183 W/kg
 
Power density (volume)
146 W/l
 
 
Lifetime data
Cycle lifetime
800 cycles with 100%
discharge depth at 25°C
result in capacity loss of approx. 25%
Average annual capacity loss
Approx. 4% at 25°C ambient temperature
 
 
Usage information
Cell operating temperature
-20°C to +55°C
Battery protects itself
Cell charging temperature
  0°C to +45°C
Battery protects itself
Temperature (storage)
-30°C to +50°C
 
Typical storage time at 50% SOC
1 year
When switched off
Max. connections
2S8P or 1S16P
Please contact Torqeedo if larger battery banks required
Max. quick charge
50 A
Charging time < 1.2 hours
Protection class
IP67
Waterproof, can be submerged to depth of 1 metre for 30 minutes without damage
 
Battery composition
Number of cells
336
 
Cell housing
Steel cylinder safety cells
 
Capacity per cell
3 Ah
 
Nominal voltage per cell
3.65 V
 
Cell connection
7s48p